Romantic Activities In & Around Carlsbad
San Diego Things to Do for Couples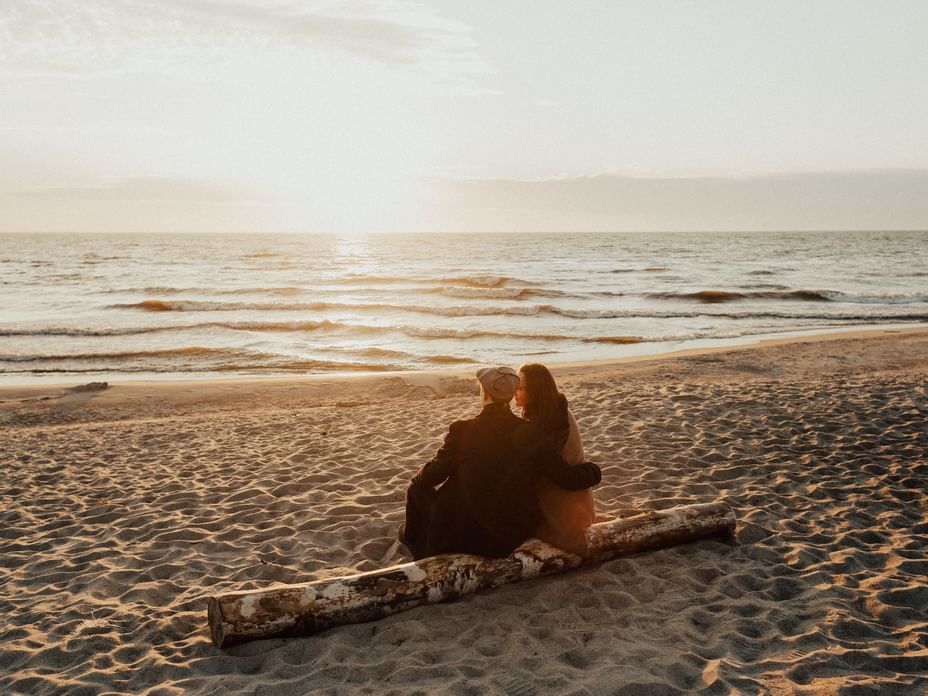 The Lovely Embrace of Wind and Sea… February has romance in the air in Carlsbad. We're sure you'll find our comfortable rooms enchanting in themselves. When you do decide to (finally) step out, we've got ideas to send you soaring.
Cheers!
Onsite at the Windmill Food Hall, luscious noodle spots will leave you smacking your lips like Lady and the Tramp. Try the Pho or Vermicelli at District 1 Pho. Try the Pad Thai or Drunken Noodles at Thai Style. Top it off with a caffeine boost and something sweet at Corner Coffee. Check out events onsite at the Windmill Food Hall, like Monday trivia and live music events on the weekends.
Need a morning perk, or a lovely afternoon pick-me-up? Lofty Coffee in Encinitas is a corner spot where couples can cozy up with the perfect cuppa.
Stepping out for dinner? From light and fresh to hearty and beefy, from cocktails to beer, there's something for everyone at Yard House, a 7-minute drive away. Want a wine-forward experience? Try OAK + elixir: good food, friendly service, and romantic twinkle lights, plus an extensive wine menu. For a relaxed experience with wood-fired brick-oven pizza and retail wine, try ignite bistro.
Once you are ready for serious nighttime fun, why not try a San Diego's speakeasy? We hear good things about The Noble Experiment, Prohibition, and The Tipsy Crow.
Planted Hearts
What's more romantic than voluminous flora? At the San Diego Botanic Gardens, learn about flora of the Meditteranean and the middle east with visiting lecturer Dr. Ori Fragman-Sapir of the Jerusalem Botanical Gardens on February 12. Or take your loving pooch for the best walk in town, a scenic route through the 37-acre garden, during the 5K PAW walk.
Try something tropical at Ohana's Creations in Carlsbad Village. Pick up something perfectly potted at Gardens by the Sea Nursery. Find the right wreath at Barrels and Branches.
Sparkly
Jewels, you say? The only thing better than owning jewels is to share a jewel experience at the Gemological Institute of America's Museum. Centuries of Opulence: Jewels of India and other current exhibits will leave you spellbound and breathless. Be sure to make reservations at least 24 hours in advance and bring a photo ID.
LOVE-ly Art
In Carlsbad Village, get your hands dirty at Handled Pottery Studio, or simply peruse the finished ceramic pieces. Saturate your senses in a sensuous sculpting lesson, or stop by to shop Lynn's sculpture. The Village has more galleries and studios than will fit in one afternoon—but we dare you to try! In Balboa Park, experience the San Diego Museum of Art, especially during the Valentine's Day Workshop (in printmaking) or in Art After Hours.
Your Pitter-Pattering Heart
Get your blood pumping with a bike ride on the beach with Pedego electric bike rentals or take a romantic ride on the water in the Carlsbad Lagoon, with many water craft options, from kayak, to pontoon, to Stand Up Paddleboard. Looking for more options outdoors to get your heart pumping? Stroll the Bataquitos Lagoon trail, or take a hike up Torrey Pines. No matter which direction you choose, SoCal has a trail with your name on it!
More Things To Do
For more ideas and ways to explore San Diego, visit our Carlsbad Travel Blog.

Additional Local Experiences