Yoga Your Way to the Sea
New Yoga Partnership Brings Complimentary Classes to Guests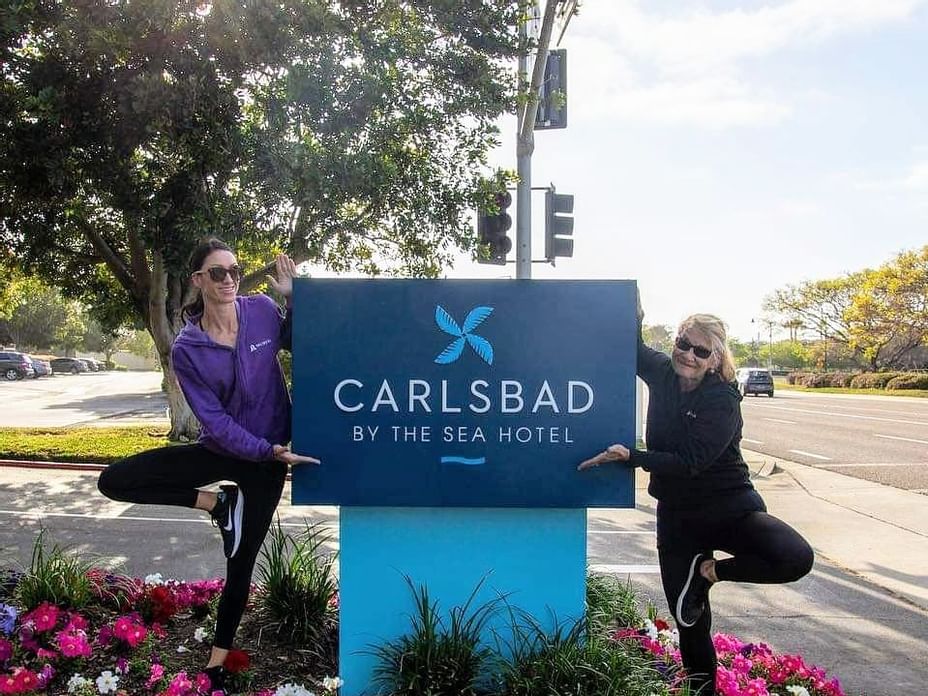 Carlsbad by the Sea Hotel is excited to announce our newest partner: Yoga Your Way. Yoga Your Way brings health, yoga, fitness, and fun together to create one of a kind wellness experiences. The company was created out of a love for yoga and a passion to teach others how to feel their best. They value compassion, dedication, individuality, and strive to help clients reach their goals and feel great in their own bodies.
Yoga Your Way offers an unparalleled virtual platform, and also provides in-person Stand Up Paddle Board (SUP) Yoga & Pilates classes at the Carlsbad Lagoon, outdoor, socially distanced yoga at Buccaneer Beach Park, and will soon be offering classes at our hotel!
A bit about their classes…
Their virtual platform offers instructional videos for each pose, an extensive video library, and virtual yoga classes for every level. Our platform has gained the attention and subscribers from major international companies.

SUP (Stand Up Paddle board) Yoga & Pilates is a unique class completely on a paddle board! Using the board as your floating yoga mat, and the lagoon as your outdoor studio, this class focuses on improving and maintaining balance.
As guests at Carlsbad by the Sea Hotel, you receive special promotions and discounts for Yoga Your Way classes and programs:
Guests will be able to attend complimentary yoga classes onsite at the hotel. The classes will be offered Tuesdays at 4pm and Sundays at 10am.

Guests will receive a 50% discount to all classes on Yoga Your Way's virtual platform using the promotion code "CBDSHOTEL". All guests have to do is go to yogayourway.fitness and join with a monthly subscription and enter the coupon code at checkout

Guests are eligible for a "new student special" rate for SUP Yoga & Pilates classes. To use, go to yogayourway.fitness and click on the "CLASS CALENDAR" and choose the SUP class/date you want to book. You will be prompted to login to or create yourMINDBODY account, and then you will be able to purchase the class for only $25 using the CARLSBAD SEA HOTEL option.
Whether you are looking for a workout, relaxation, or a unique local experience, Yoga Your Way classes are the perfect addition to your Carlsbad getaway! To learn more and check class dates, please visit their website at https://yogayourway.fitness.