10 Summer Favorites You Can Do Right Now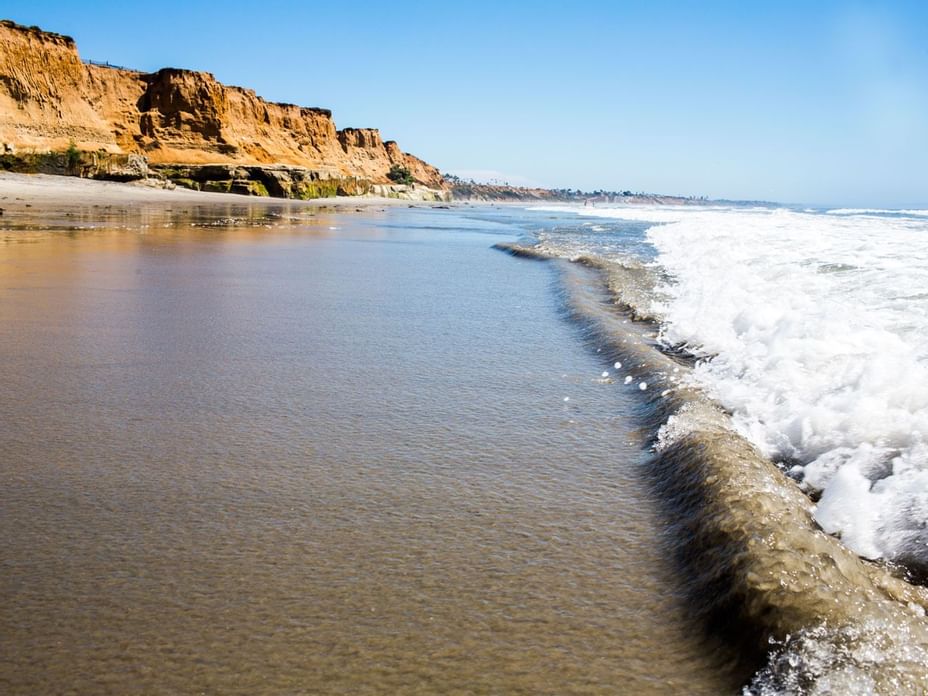 Life's Rad in Carlsbad, and we are here to help you get out there. Even though some options are limited and safety is key, there is still plenty to keep you care free and occupied. Below are a few ways to get out and about in our beach town -- mask in hand, of course! Have fun.
#1 - Live Your Best Beach Life
Here you'll find more than 5 local beaches within a few miles of the hotel, each with it's own unique highlights. Whether it is a day full of sand castles or learning to surf for the first time, a day of fun in the sun is waiting for you.
#2 - Craft Brewing Capital of America
There is a reason we claim the Capital -- you can't travel more than a few miles without crossing a new and unique brew. With plenty of tour options, you can grab a pint and get the shirt! Or you can make an adventure of it on your own, leaving a trail of hops behind you. Check out the city's round up of brews to find exactly what will quench your thirst.
#3 - Retail Therapy
Start with our Premuim Outlet Mall located just steps from our front entrance. When you have had your fill of brand labels, take your shopping bag to the Carlsbad Village for a variety of smaller shops catering to a SoCal vibe. For more artisan and one-of-a-kind shopping, puruse the boutiques of Cedros disctrict, only a short drive down the coast.
#4 - Culinary Adventures
Everything you crave -- on the premises, no driving required. The Windmill Food Hall is new, fun, and already a neighborhood fave. One room, 14 eatieries. Everyone's happy. You'll great artisanal options, a cozy atmosphere, and relaxed activities: the perfect place to hang and refuel. Plus we guarantee if you don't find something you've never tried, you'll definitely find something you love!
#5 - Find Your Zen
Being close to the sea offers it's own natural zen and a few deep breaths are sure to set your day right. However, you'll find your fair share of yogis and wellness offerings in the neighborhood as well. For a guided experience, grab a quick class at the nearby Mantra Yoga. They also have a great juice bar to refuel for your next adventure.
#6 - Sing Strawberry Fields
Take the afternoon and visit a long time family-friendly favorite, the "pick it yourself" Carlsbad strawberry fields. Peruse fields of juicy red, home grown gems and eat a few along the way while you hum the Beatles' classic. If picking isn't your thing, they have baskets to go and you won't have to go far with a daily stand right across the street from the hotel.
#7 - Get Active. Get Outdoors.
The area is lush with nature and there is no shortage of trails for hiking, biking, walking, and exploring. Get out for a bit and discover stunning cliffs, forest walks, beach views, and a bit of animal life. We have a trail for every style and fitness level, just take a look at our list of nearby trails.
#8 - Coastal Cruising
Meet the miles and miles of coastline on two wheels. The local Pedego Carlsbad offer standard and electric bike rentals to get you moving with ease. Also, grab on-the-go snacks from in our gift shop so the adventure doesn't need to stop until you're ready.
#9 - Colors of Carlsbad
Carlsbad is alive with murals! Explore the city to find artistic displays in large public spaces as well as more secretive street art. For a diverse do-it-yourself tour, the ever-evolving mural map created by Bryan Snyder, local artist and Carlsbad Art Wall Creative Director Or plan your trip to take advantage of the next Carlsbad Village's Official Mural Tour and get guided through the highlights of the town's most notable murals.
#10 - Swing for the Greens
The year round warmth makes Carlsbad an ideal backdrop for a lush golf community. From industry favorites to championship greens, you will find what you are looking for to take that perfect swing! Our favorite is The Crossings Carlsbad, located just blocks from the hotel at the top of the hill near Legoland. Their views are stunning, but if you are looking for a golf getaway with new greens every day also take a look at the neighboring Encinitas Ranch, the acclaimed Aviara Golf Club, the U.S. Open's Torrey Pines, and nearby La Costa championship courses.

Additional Local Experiences