All Paws Point to Carlsbad
Dog Friendly North County San Diego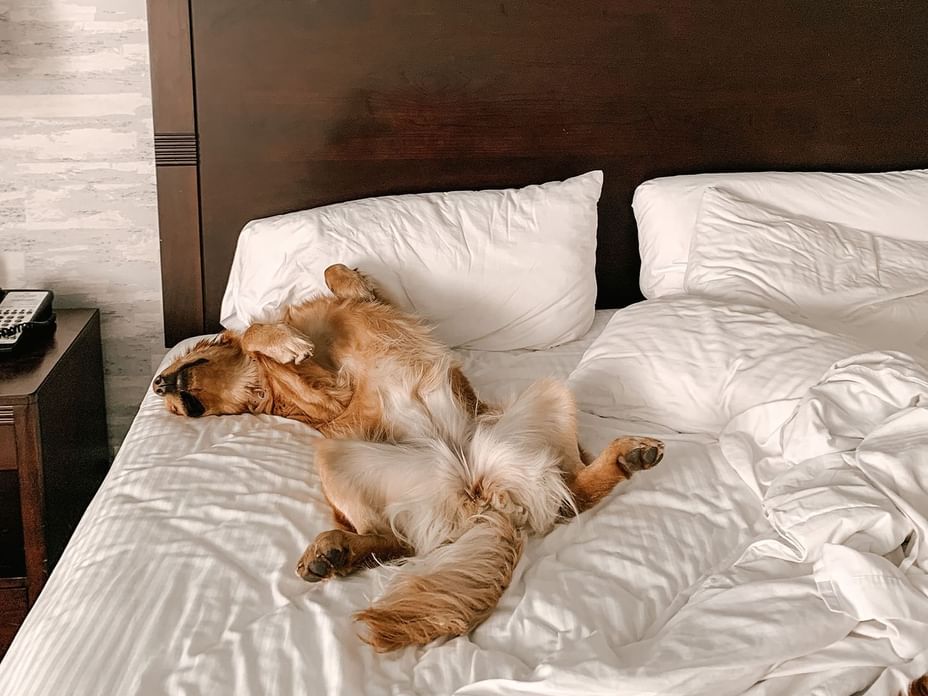 Visit Carlsbad is spending Spring celebrating four-legged friends and everything we love about them. All Paws Lead to Carlsbad is a pet-friendly tourism initiative designed to make travel to Carlsbad, Ca. with your pet a breeze. You and your dog will feel right at home at Carlsbad by the Sea Hotel. From our alluring grounds to the nearby beach, dogs love a stay in Carlsbad almost as much as their humans do.

PET VACATIONS
From the moment you arrive, you'll find doggy treats at the Front Desk, courtesy of our canine-loving staff. Your perfectly pet-friendly room awaits, well-appointed and relaxing for all. Our property is surrounded by lush, grassy lawns, just waiting for you and your pet to play. Our expansive courtyard invites you to a sunny game of chase or a shady romp through meandering eucalyptus trees. Pet friendly rooms are available with a non-refundable $75 fee per stay for up to two dogs, each under 50 lbs. The fee is applied before tax, and no additional deposit is required.

NEARBY PET FAVORITES
Windmill Food Hall
Next door, the pet-friendly Windmill Food Hall houses over ten dining options within just a few steps of the hotel, no driving required, and dogs are welcome. Try our Food Fun Package and add savings and convenience to your pooch-along experience.

The Shoppes at Carlsbad
The Shoppes at Carlsbad offer customers a unique blend of coastal hospitality, world class (and pet friendly) shopping for visitors, providing the ultimate California shopping experience. Make sure to stop by The Shoppes at Carlsbad from 2pm – 6pm on Friday, April 14 for a Doggie Bake Sale! The baked goods for sale will be provided from Carlsbad Cookie Company and a portion of proceeds will be donated to the San Diego Department of Animal Services in Carlsbad.

OTHER DOG FRIENDLY EXPERIENCES
Visit Carlsbad has even more on the docket for dogs and their families. From wine tastings to stand up paddleboarding, or pawriffic pottery and canine treats with human cookies, you and your furry companion can hit the coastal town in style and enjoy every pleasure. Here's a snippet from All Paws Lead to Carlsbad.

Carruth Cellar
The Carruth Carlsbad, a tasting room for Carruth Cellars, San Diego's largest urban winery, will feature some fun experiences at their dog friendly location in Carlsbad Village. Through Sunday, April 30: Look for Carruth Carlsbad's special photo contest on @carruthcellars with a custom "I need a drink" doggy bowl. 5pm – 8pm on Thursday, April 20, Carruth Cellars will be hosting their quarterly "Corks for Cause". A portion of these proceeds from this evening will be donated to Rancho Coastal Humane Society.

Agua Hedionda Lagoon Foundation | With one of the largest systems of nature trails in San Diego Country, Carlsbad offers endless trails to explore. The Agua Hedionda Lagoon Foundation (AHLF) Discovery Center is the perfect spot to learn about dog-friendly routes in Carlsbad. All visitors and furry friends who come to experience AHLF in March and April will be offered a superhero themed dog bandana and dog friendly trail map (while supplies last). Learn about a new dog-friendly trail each week! AHLF will be highlighting a new pet-friendly trail every Tuesday on their social channels for people to take their dogs to explore. Visit @aguahedionda for more information. Also, the annual AHLF Tip Top Run on Saturday, March 18 is a dog friendly experience. Visitors are encouraged to bring their furry friends to run/walk and enter them in AHLF's dog costume contest. AHLF will be offering a pet-friendly shuttle back to the starting line from the finish line.

Yoga Your Way
Yoga Your Way, a SUP (stand up paddleboard yoga) class, will be featuring dog friendly treats and donations to the San Diego Department of Animal Services in Carlsbad during their 9AM Sunday classes. The cost for each SUP class is $30; register here. Enjoy a special SUP Yoga Flow and bring home a treat for your furry friend.

Carlsbad Premium Outlets
The Carlsbad Premium Outlets, Carlsbad's outlet shopping destination, will be installing two pet photo stations throughout the dog friendly shopping center that encourage families to shop with and snap photos of their furry friends. Monday, March 6 – Monday, April 10: Carlsbad Premium Outlets' visitors who share their photos via Instagram and tag @carlsbad_po will be entered for a chance to win a $200 shopping spree. From 10am – 1pm on Saturday, March 25, join the Carlsbad Premium Outlets and the San Diego Department of Animal Services in Carlsbad for their Pet Fair which will feature an Adoption Event and Microchip Clinic.

Handled Pottery
This pet-friendly ceramic studio will have dog bowl making workshops from 2pm – 4pm on Saturday, March 25 and Saturday, April 15. Sign up for the workshops here.

Fired Up
At Fired Up Ceramics Studio guests and their pups can create "Clay Keepsake Paw Prints" on Saturday, March 18, Sunday, March 19, Saturday, April 22, Sunday, April 23, 2023. These classes will include paw prints clay impressions (with a $10 discount offered), ceramic choices, doggy goodie bags, refreshments and dog snacks.

Pure Project Carlsbad
Join us with your furry friend for a paw-some Yappy Hour from 3pm – 5pm on Friday, April 7, 2023. On the map – Pure Taproom & Brewery will be offering beer specials, fun photo backdrop and will be entered into a raffle for a gift pack. Special yappy hour raffle for pure pawject gift pack. Boozy Bones will be on site.

The Forum Carlsbad
The Forum Carlsbad loves pets and is gifting two lucky pet parents a $500 gift card to enjoy a shopping and dining day with their furry friend! Follow along on Facebook and Instagram for all the details on how to enter the giveaways in April. Don't forget to snap a photo of your dog at The Forum Carlsbad for extra entries.

Carlsbad Cookie Company
Carlsbad Cookie Company is a specialty bakery producing homemade, hand-crafted shortbread cookies for pet parents and dog treats for our furry friends. Heathie's Treats (dog treats) are available in flavors including Peanut Butter Coconut Crunch, Peppermint Carob Chip and Chicken Liver and Bacon. Order today online here.

PET ADOPTION
In case you are looking for a new furry friend, the San Diego Department of Animal Services in Carlsbad has dogs, cats and other animals waiting to find their forever homes. For more information on adoptions, visit @sdanimalservices (on Instagram) or https:/www.sddac.com. During March 2023, the Carlsbad location will have educational tours available at 3pm on Fridays. Questions? Call (619) 767-2675. The San Diego Department of Animal Services is located at 2481 Palomar Airport Road in Carlsbad.

Plan your next getaway by the sea and bring your adorable dog. It is our pleasure to welcome you.