The Best Local Pints for a Beercation in Carlsbad
Breweries In & Around North County San Diego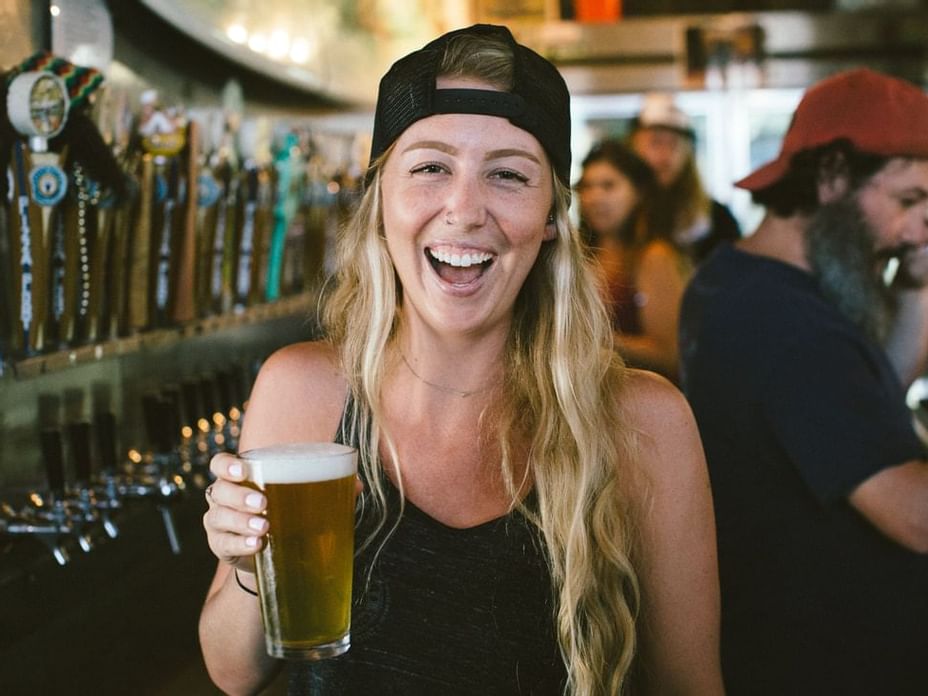 San Diego is a beer lovers paradise. With over 150 craft, nano, and micro breweries, San Diego County is becoming known for its notable breweries and tasting rooms- especially along North County's "Hops Highway". Here is a list of our favorite breweries -- and top brews -- in North County:
Bagby Beer Co.
Oceanside, CA - Bagby Beer Co. has a cool, chill vibe and offers great brews, in addition to cocktails and particularly tasty food. They also offer great specials on the weekends and Trivia Night on Tuesdays.
Must Try: The Worker Bee Golden ale and the All in the Family Amber ale

Kilowatt Brewing Oceanside Taproom & Provisions
Oceanside, CA - Kilowatt Brewing offers an electric atmosphere and impressive beers. There's a plinko game and a huge homemade Lite-Brite wall to play with, along with other board games and entertainment.
Must Try: The Kilowatt Pale and 250 kWh IPA

Burgeon Beer Company
Carlsbad, CA - Though a relatively new brewery, Burgeon Beer Company is making a name for itself with incredible brews, friendly staff, and a lush, plant-filled ambiance. They do not offer food, but have a rotating selection of food trucks onsite daily.
Must Try: Treevana West Coast IPA, Juice Press Hazy IPA, Keep it Simcoe West Coast IPA

Culver Beer
Carlsbad, CA - A locally owned company, Culver Beer Co. opened in early 2016 and serves up top notch craft beer in a family friendly environment. Onsite, Locally Toasted Deli offers the perfect sandwich to pair with your brews.
Must Try: Tangerine Wheat Ale and the Peanut Butter Porter

Stone Brewing Company
Escondido, CA - As Stone Brewing Company's main production facility, this brewery offers tours, a gift shop and growler outlet, and lovely grounds that encompass the Stone Brewing World Bistro & Gardens, a fine-dining restaurant. The restaurant stands on its own as a destination, and the bars have dozens of beers from Stone and "guest" brewers.
Must Try: Stone Vanilla Bean Porter and the 20th Anniversary Encore Series: Vertical Epic Ale.

The Lost Abbey - The Confessional
Cardiff, CA - The Lost Abbey's Cardiff tasting room serves beers from its namesake, as well as from Port Brewing and The Hop Concept in an open, aesthetic space. While they do not serve food, guests can grab food from a selection of nearby eateries for the perfect beer accompaniments.
Must Try: Judgement Day, a Belgian monk-brewed favorite

Culture Brewing Company
Solana Beach, CA - The Culture Brewing tasting room offers trendy vibes with modern-rustic flair. Their 10-barrel brewhouse and fermentors are on full display from their spacious back patio where food trucks rotate through daily.
Must Try: Ginger Snap Red Ale, Tart Cherry Wit, and Milk Stout a try.

Viewpoint Brewing Company
Encinitas, CA - Viewpoint Brewing offers an unbeatable view (overlooking the San Dieguito Lagoon), vibrant atmosphere, and outdoor patio always playing live music. In addition, they have a tasty food menu and a constantly rotating tap list.
Must Try: Pandamnit IPL and Moe'saic Pale Ale

Belching Beaver
Oceanside, CA - With four unique locations throughout North County and San Diego, Belching Beaver is committed to creating great beer and great times. They offer over 60 types of beer on tap, plus wine tasting, great food, and nightly specials.
Must Try: Peanut Butter Milk Stout, Deftones Phantom Bride IPA, and Hazers Gonna Haze Hazy IPA

Pizza Port
Carlsbad, CA - One of the earliest North County breweries, Pizza Port has three North County locations, so you're never too far from a pint of beer and bites.
Must Try: Swami's IPA, Ponto Session IPA, and Kook DIPA

If you are looking for a way to explore even more, grab a Tasting Experience Pass for the Annual San Diego Beer Week, hosted by the San Diego Brewer's Guild starting November 3rd thru November 12th. Tickets can be purchased online. Plan your next San Diego getaway with hops in mind! You deserve a beercation.