Beach Life 101: Best Beaches in Carlsbad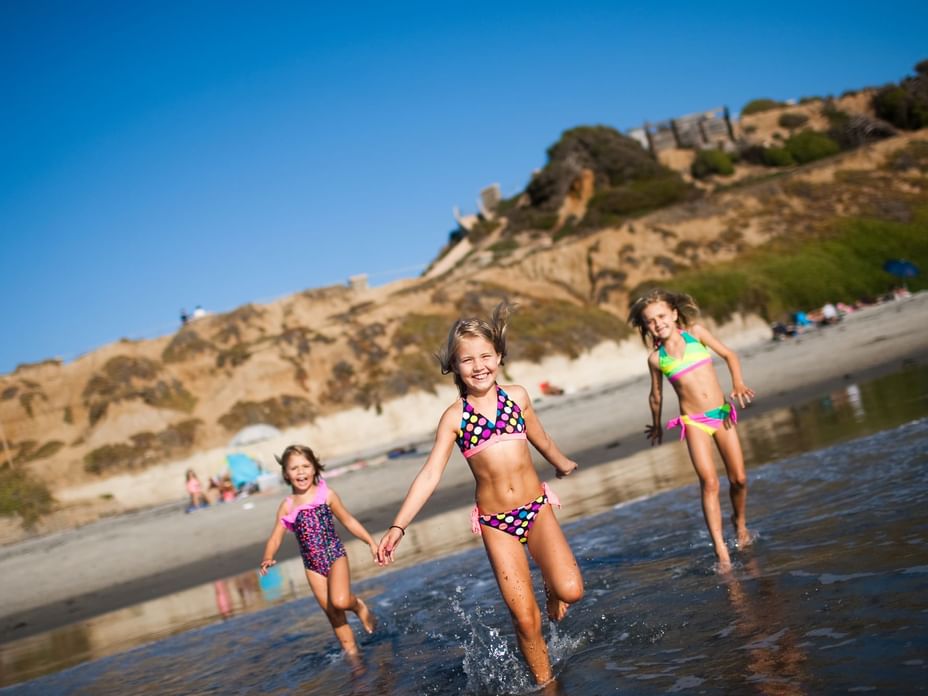 Carlsbad draws in visitors and locals alike seeking family fun, rugged adventures, and calming coastal beauty. Whether you are looking for a family day on the beach or a nature hike with coastal views, there is a beach for you!

Family Fun in the Sun
If you are seeking a fun day of recreation, fun, and convenience, then these beaches are for you. The following offer miles of coastline complete with restrooms, showers and lifeguards- making them an easy and attractive option for families and beach bums. Though they also draw larger crowds, these beaches still provide hours of fun in the sun! So grab a few chairs, sand-toys, and body boards from our hotel's complimentary rental services and get ready for a day of sun, surf and sand!

Moonlight Beach (Encinitas)
This large, family-friendly beach is the main central beach of Encinitas. It has a large grass park, kids play area, tennis and volleyball courts, and fire pits in addition to miles of sandy coastline. The gradual slope of the beach makes it a lot safer for swimming, and a popular destination for families.
Restrooms: Yes
Showers: Yes
Lifeguards: Yes
Dogs: No
Activities: Surfing, Sunbathing, Tennis, Volleyball, Bonfires, Beach Walking, Swimming
Added Amenities: Snack shack, Firepits, Beach Rentals, Playground, Picnic Tables, Tennis Courts and Volleyball Courts

South Ponto Beach
Another popular family destination, South Ponto Beach, draws visitors from all over the area for its prime location and size (it is much wider than nearby beaches, offering plenty of room to lounge and play). This beach is also a popular surf spot, hosting several surfing events throughout the year.
Restrooms: Yes
Showers: Yes
Lifeguards: Yes
Dogs: No
Activities: Swimming, Surfing, Sunbathing, and Beach Volleyball (You'll have to bring your own net)

Tamarack Beach
Tamarack Beach is ideal for active visitors and families, offering endless activities both on and off shore. The Carlsbad Seawall, a paved 4-mile walking path along the beach, is a great option for walking, jogging, and cycling enthusiasts. Additionally, each night people gather at the north end of the beach for breathtaking sunset views.
Restrooms: Yes
Showers: Yes
Lifeguards:Yes
Dogs: No
Activities: Surfing, Swimming, Sunbathing, Fishing, Scuba Diving, Running, and Walking

Surf & Turf
For those willing to sacrifice the amenities for more on-shore options and excursions, these beaches are for you. Enjoy the acclaimed Southern California coast while also experiencing nearby attractions- whether that be nature reserves or local restaurants and businesses.

Seaside Beach (Cardiff)
Cardiff State Beach is located along the west side of San Elijo Lagoon, a large wetlands and ecological reserve in Cardiff (about 9 miles south of Carlsbad). For those looking for more of an adventurous beach day, you can explore the lagoon and nearby visitors center, as well as the tidepools at the south end of the beach. There are many restaurant options just up the highway, offering a perfect mix of land and sea.
Restrooms: Yes
Showers: Yes
Lifeguards: Yes
Dogs: Yes, with leash
Activities: Surfing, Kiteboarding, Sunbathing, Snorkeling, Scuba Diving, and Walking

South Carlsbad State Beach
South Carlsbad State Beach is a three-mile long beach on the waterfront of Carlsbad. Most of this state beach is in front of the South Carlsbad Campground, just off of Carlsbad Boulevard. Located just across the highway is the Batiquitos Lagoon, one of the few remaining tidal wetlands on the southern California coast, with several trails to explore.
Restrooms: Yes, but far if not camping
Showers: Yes
Dogs: No
Lifeguards: Yes
Activities: Camping, Swimming, Surfing, Skin Diving, Fishing, Picnicking, Hiking, Birdwatching, Sunbathing and Walking
Added Amenities: Campground, Fire Pits, Camp Store

North Carlsbad Beaches
Jointly owned by the state and the coastal property owners, the North Carlsbad Beaches are open to the public and offer an amazing stretch of coastline to explore and enjoy. While they do not have any lifeguard services, restrooms, showers or other amenities, the North Carlsbad Beaches are conveniently located close to downtown shopping and restaurants.
Restrooms: No
Showers: No
Dogs: No
Lifeguards: No
Activities: Surfing, Sunbathing and Walking

Once you find your perfect beach, make sure to check out our complimentary beach gear and local recommendations to ensure you get the most out of your beach vacation!