Best Taco Spots for Cinco de Mayo in Carlsbad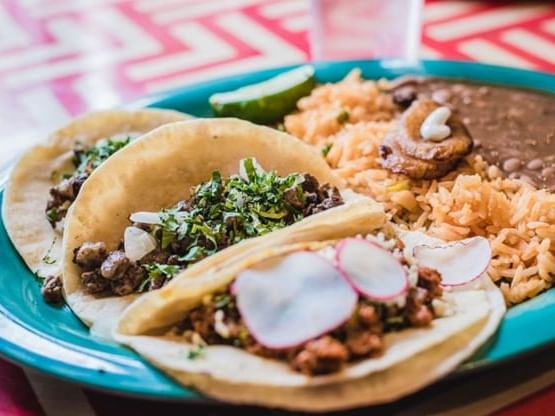 Because of its proximity to the border, San Diego is lucky enough to have a large selection of notable restaurants that boast the authentic flavor and unique spirit of Mexico. Here are a few suggestions, we think are the perfect places to celebrate Cinco de Mayo this year, taco and margarita in hand!
Windmill Food Hall
If you're staying at the hotel, a short stroll is all you need to do to start your "Cinco crawl" and get in the spirit. A mason jar margarita is a must from the Mill bar and then you have your choice of seafood at El Cacho or tacos, burritos and bowls at El Puerto!
Must Try: Fish tacos and Ceviche (El Cacho) / California Burrito, Carnitas or Al Pastor Taco, and Vegan options available (El Puerto)
Pure Tacos
Self-proclaimed a "modern American taqueria", Pure Tacos' menu features a range of delicious tacos, all made on hand pressed tortillas -- from traditional fillings, like al pastor, grilled steak and fish, to global options like Korean bo ssam and Vietnamese pho. Whether you decide to go the traditional or global route, all plates pair perfectly with their house made chips and specialty margaritas.
Must Try: Pho Beef Tacos and Baja Fish Tacos
Casero Taqueria
Casero Taqueria combines quality Mexican flavors with the soul of Baja California. Their chef inspired menu features their proprietary Casero tortillas, marinades and specialty flavors that set their tacos apart. Their bar has an emphasis on tequila and mezcal, providing the perfect addition to any meal.
Must Try: Carne Asada Tacos, Baja Fish Tacos, and Shrimp Tacos
The Taco Stand
Inspired by the taco stands of Tijuana, The Taco Stand aims to bring the Baja quality and experience north of the border. Featuring high quality ingredients, handmade tortillas, and guacamole and salsa made fresh daily, The Taco Stand has quickly gained popularity and now has more than 8 locations. In addition to tacos and burritos, The Taco Stand also offers a selection of authentic Mexican popsicles, refreshments, beer, and churros.
Must Try: Al Pastor Tacos
Señor Grubby
Señor Grubby's has been a Carlsbad staple since 2008. Featuring authentic Mexican food, a great family atmosphere and award-winning cocktail bar, this is a great option for families and group gatherings. Señor Grubby's makes their tortillas and famous guacamole fresh daily on location. Stop by this local favorite for reliably great food and atmosphere.
Must Try: Grubby's Famous Street Tacos
Miguel's Cocina
The first Miguel's Cocina opened in 1982 and has remained a local staple ever since. Since opening, Miguel's Cocina has maintained a commitment to artisan cuisine, which is reflected in their handmade tortillas, fresh salsas, and colorful chips made daily-- and we can't forget their famous jalapeno white sauce. They now have 6 locations throughout San Diego county, all featuring their famous menu items and hand-shaken margaritas.
Must Try: Fish Tacos
Did we miss your favorite taco spot in our round up? Let us know! Or tag us on social when you try out one of the options above. Show off your favorite bites – we'd love to share the fun! For even more local adventures and ideas, check out our other blog posts on things to do in Carlsbad and San Diego county.