Our Favorite Carlsbad Wineries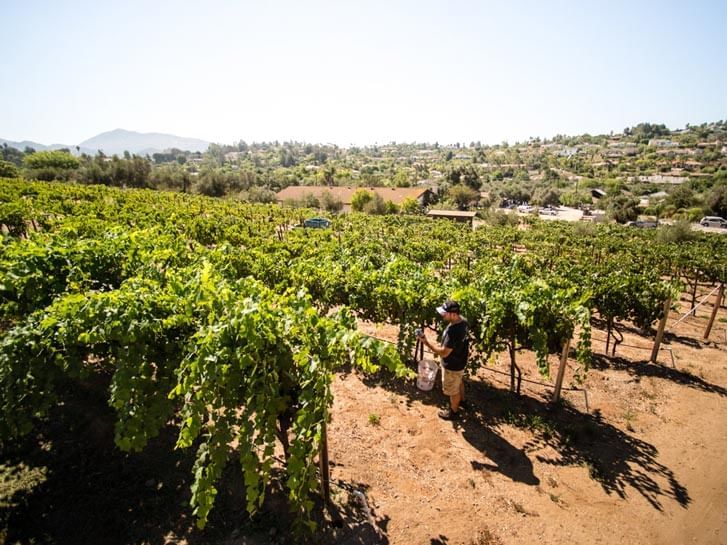 1. Brooking Vineyards
This local gem is nestled in the Vista foothills. Reservations can be made easily on the Brooking website and are required. The location is a picturesque west facing view and on a clear day the ocean and Catalina Island is visible. Spend from 1.5 to 2 hours learning about our county's rich wine history, their vineyards, and how they use Old World winemaking techniques to produce their award-winning wine. They are truly passionate about their craft and it shines through in the final product! If you think port and sherry is not palatable, think again! These fortified wines are delicious! We highly recommend a visit to this unique winery!

2. Highland Valley Vineyards
This beautiful mico winery is hidden away in Escondido winery perched on the edge of Highland Valley, overlooking San Pasqual Valley. The atmosphere is gorgeous…try to get out there for sunset! The owners Jeannine O'Brien and Ray Schnorr are incredibly friendly and knowledgeable about wine. Their Petit Syrah is our favorite glass from their all-reds selection, but each is unique and delicious! There is a small bench to enjoy the beautiful view and also plenty of seating on the patio.

3. Holme Estate Cellars
When in Oceanside, a visit to the Holme Estate Cellars taste room is a must if you're a wine lover. After years of domestic and international winemaking experiences, owners and winemakers Julie and Craig Holme currently reside in Oceanside. They're not in a big location and we like that because you really get that personal touch. The tasting room is very well laid out and they have a wonderful lounge area as soon as you walk in the front door. They offer flights, tastings, glasses of wines and of course bottles.

4. 2Plank Vineyards
2Plank Vineyards makes the list because of their relaxed vibe coupled with amazing customer service. Expect to be welcomed right away by very knowledgeable, impressive staff. They have homemade cheese spreads and cookies that are specifically made to be paired with the wines they serve. Try their 2016 Oregon Pinot Noir, you won't be disappointed!

5. Carruth Cellars
What a location! It isn't very visible from the street, but once you park and walk up it's quite unique. It's open and airy when the weather permits (which is almost always in California) and the inside was refreshingly unlike any other wine cellar we have ever been to. The staff is of course very friendly and knowledgeable. Beautiful spot, delicious wine, lovely people. It doesn't get much better than that. Our favorite is the Unicorn red blend, but you can't really go wrong with any of the wines there.
Additional Local Experiences