10 Tips For Your Adventure at LEGOLAND California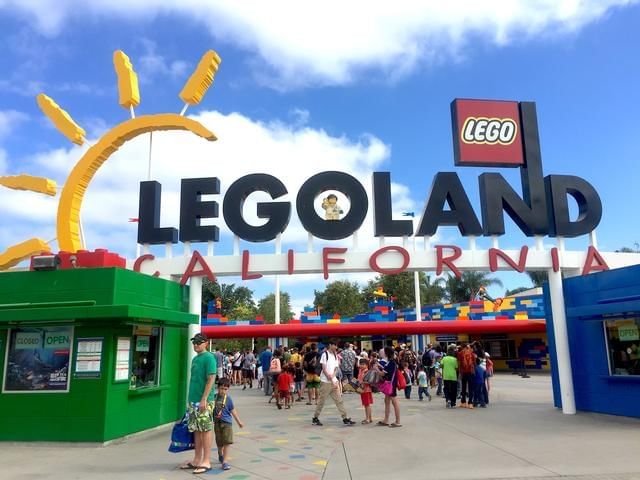 Located just 10 minutes from Carlsbad by the Sea Hotel, Legoland California resort offers more than 60 rides, shows and attractions, and is an interactive, hands-on theme park experience for families with children. The park is also home to Sea Life Aquarium and the world's first Legoland Water Park. Even if your kids aren't hardcore LEGO devotees, they will still have a blast because everything in the park is geared for ages 2-12. Below we've put together some Legoland California tips so that you and your family can make the most of your time in the park.
1. Find the best ticket deal
There is no good reason to pay full price at the gate for your tickets. Besides saving extra cash, pre-purchasing your tickets will also expedite your entry into the park. There are also some great combo deals that include tickets to other San Diego attractions.
Carlsbad By the Sea Offers a Legoland package for discounted tickets and room rate: Legoland Package
2. Download the app
Before you even pack for your trip, download the Legoland app onto your phone. The new and improved mobile app will make planning your day easier than ever! It has an interactive map to help you explore the park, gives your ride wait times, height requirements for rides, park hours, show time reminders, directions and even a car finder to help you keep track of where you've parked.
3. Get there early!
During the busy seasons, the park officially opens at 10:00am, but the turnstiles open at 9:00am and some of the rides open at 9:30am. If you don't want to wait in line, arrive at the ticket window before 9:00am. By getting there early, not only are you beating the crowds and the lines, you're also going to be able to ride everything by doing so! You're also likely to score parking that's feet from the premium spots (just $15 versus $25). The park is open daily spring and summer and closed select Tuesdays and Wednesdays during the fall and winter. For more dates, times and resort information, visit LEGOLAND.com.
4. Shop first
The stores at Legoland have one of the largest selection of Lego and Legoland products in the world! There are a couple of bigger stores closer to the entrance of the park or you can purchase from any of the shops throughout the park. So if you plan on doing some shopping, do that first. By the end of the day, the souvenir shops will be very crowded. See Tip #4 for help!
5. Take advantage of package pick up service
To keep your hands free and the fun going, any retail purchases made in the Park can be transferred to the Park exit to pick up on your way home. No one likes carrying multiple bags around, so Simply make your purchase and then grab your souvenirs at the Package Pick Up area in the beginning near the locker and stroller rental.
6. Don't focus on the headline rides
Lines are known to become very long and move surprisingly slow at Legoland, so remember to enjoy the things that make Legoland different from other theme parks. Fun Town, for example, has no major rides so it is less crowed while still being completely charming. The LEGO Factory Tour and the Adventurer's Club are interesting and creative walk through experiences. At the nearby LEGO Club, kids can build with LEGOs and purchase bricks by the pound. Over past the Castle Hill area there is a delicious treat stand called Granny's Apple Fries. Get yourself an order, they're delicious! The XBOX Family Game Space is also a fun place for video-game lovers. And don't overlook the several playgrounds in the park where children can run and play freely!
7. Bring a change of clothes
There is a LOT of water at Legoland California. The Legoland Waterpark, the water attractions at Pirate Shores, the CHIMA Waterpark, and all of the splash parks throughout will get you wet even if you're not planning on going to the waterparks. The park does offer family dryers for purchase where you stand in a big dryer to dry off. But throw a bathing suit on under everyone's clothes and bring an extra pair of dry clothes just in case!
8. EAT! …and bring some water and snacks
Coolers are not allowed, but you can bring in your own water and small snacks. BUT the food at Legoland is actually really good! Some favorites include Ninja Kitchen, Ocean Journey Café, Wok N Bowl Ramen, Knight's Smokehouse BBQ, and The Garden Restaurant. You will be pleasantly surprised by the fair prices. That being said, check for promotions and deals because some restaurants will hold a kids eat free deal.
9. Take plenty of pictures and video
Make sure you capture your amazing time at Legoland! The whole park is themed around the colorful Lego bricks pieced together and assembled in models for fantastic photo ops. Looking back on the memories will surly bring your family joy that will last a lifetime.
10. Take the Shuttle from Carlsbad by the Sea Hotel
To avoid driving and parking fees, take the Carlsbad By the Sea Hotel shuttle. The hotel offers a this free Legoland shuttle everyday based on availability.

Additional Local Experiences