Meet the Sea in San Diego
Discover Marine Life in and Around Town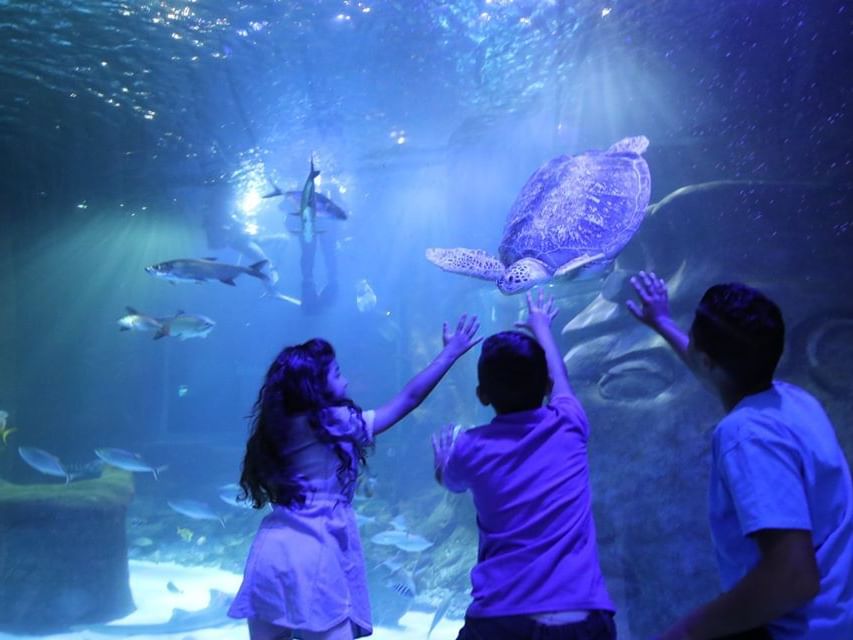 While the attractions in San Diego are seemingly endless, no trip is complete without experiencing and learning about our local sea life. Luckily, there are many ways to do just that! Below we list a few of the many ways to see and experience the sea, from amusement park spectacles to local tide pools and nature preserves.
Sea Life Aquarium
Sea Life Aquarium is an interactive experience at LEGOLAND. Combining hands-on learning with interactive lectures and close encounters with marine life, Sea Life has it all! At their newest exhibit, Sea at Night, you can have a blast and make a "splash" in a simulated bioluminescent tide. You and your family can experience strolling through a gentle surf under a starry sky- during the day! In accordance with social distancing measures, reservations are required and limited guests are allowed in at a time, making it a safe and fun experience for you and your family. For more information, visit their website.

SeaWorld San Diego
SeaWorld is an animal theme park, oceanarium, outside aquarium and marine mammal park located about 30 minutes south of our hotel. Their newest summer exhibit, Zoo Days: BaySide BBQ and Brews runs through the end of September and offers fun for the whole family. Zoo Days features 40 acres of beautiful outdoor grounds filled with lively animal exhibits, marine life presentations with physically distanced seating, and culinary dining experiences! Treat your taste buds to chef-created BBQ, over 50 local craft beers, wine, and cocktails while learning about sea life.
SeaWorld is committed to your health and have worked diligently to implement safety enhancements for all visitors. Temperature screenings and face coverings are required, and all guests must obey social distancing protocols to ensure a safe experience for visitors, employees, and animals. For more information, visit their website

Oceanside Adventures
Oceanside Adventures is a whale and dolphin watching company located in nearby Oceanside. They offer two hour trips that are ideal for families, couples,and anyone who loves the ocean, wildlife and adventure! Their US Coast Guard-inspected catamaran is perfect for optimal viewing during the San Diego whale watching season, allowing guests to get up close and personal with the marine life just minutes away from Oceanside Harbor. Each trip is narrated by an expert captain, a certified naturalist who loves whales and dolphins just like you do.
For your safety of the guests and crew, Oceanside Adventures has implemented new safety measures inline with CDC guidelines. These include increased sanitation, and requiring all guests and staff to wear face coverings and practice social distancing. For information or to schedule a cruise, visit their website.

Tide Pools
Although much of San Diego's coastline is long stretches of sandy beaches, there are also many rocky areas to spend the day exploring tide pools. Many of the best tide pooling spots are conveniently located close to our hotel.
Cardiff State Beach: These easily accessible tide pools are located just south of Lifeguard Tower #10. At low tide, you can discover many creatures in and around the tidepools and also spot clam fossils in the 45 million year old rocks!
Seacliff Park: Located in Encinitas, the tide pools at Seacliff Park can be found just north of the stairs. Popular tidepool sightings include sea hares, brittle stars and hermit crabs.
Carlsbad Tide Pools: To get to these tide pools, take the stairs just south of the last house on the bluff. Once on the beach, head to the right past the reinforced bluff walls. These tide pools offer a variety of creatures to discover, as well as a beautiful mossy backdrop perfect for photo ops.
Tide Pool Tip: Make sure the tide is low when you are seeing the tide pools to get the most out of your visit. Check the tide schedule online to time your trip accordingly!

Agua Hedionda Lagoon
Less than 10 minutes north of our hotel is the Agua Hedionda Lagoon, a coastal wetlands home to fish, crabs, hundreds of species of marine life and waterfowl. Agua Hedionda and their discovery center offer fun, interactive, and educational experiences to learn about the various marine life and ecosystems the lagoon supports. The Discovery Center Aquariums in particular feature a touch tank and three salt water aquariums. Onsite, there are also a variety of historical and cultural exhibitions, gardens, and educational activities. They are reopened at 25% capacity and also offer a variety of virtual programs on their website.

Community Safety
Regardless of how you choose to learn about sea life in and around Carlsbad, your safety is our priority! For more information on social guidelines and local resources for visitors, check out Coronavirus Information for Travelers. There are so many ways to experience and learn about the sea life that surrounds Carlsbad. For more information on any of the above resources, or if you have any additional questions, please contact us and we will be happy to assist. Can't wait to sea you soon!

Additional Local Experiences